Posted on 31 March 2016 by Andrew
In case you did not decode the last news update's SECRET CLUE.... WhatPumpkin will be at Emerald City Comic Con once again this year!
So if you are in Seattle this April 7-10, you should stop by and say hi, and also purchase many of our fine merchandise items such as t-shirts... or perhaps our set of 12 Actually Animated In Real Physical Life Lenticular Homestuck Panel Prints?
IE, the best thing ever mass produced by god or mortal man, and they can go up on YOUR PERONAL WALL. All you got to hand over is a few $$$$$$$$$$$$$.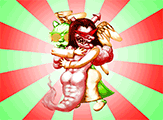 Unbelievable the deal you are getting on these context amputated story squares.
P.S. If you aren't a kickstarter backer, this is your chance to play the Hiveswap sneak preview yourself, instead of being stuck watching strangers make silly choices on youtube. And maybe... your chance to play a DIFFERENT sneak preview????
I know what you're wondering, because I've gotten approximately a zillion inquiries about this: will I personally be in Seattle to meet fans this April 7-10, or will I be too busy doing cries into my keyboard?
(That's a trick question btw. Those things are not mutually exclusive.)
(But no I probably won't be there.)
Posted on 19 March 2016 by Andrew
Right, let's do this.
NEWS ALERT: Hiveswap has updated!!!!! Read it
here
. It is pretty exciting news, I think, and I am unsurprised to discover that you agree with me completely.
Kickstarter backers will have noticed that they've been sent a playable sneak preview, but if that's not you, there MAY still be an opportunity to get your greedy peepers on it? (And by "may" I of course mean "will definitely".)
It's going to be a surprise, but just between me and you and the millions of other people reading this website, I'll let you have a teensy hint. See if you can decipher the SECRET CLUE:


(Figured it out? Shhhhhhh.)
Posted on 9 March 2016 by Andrew
Homestuck will be on pause until next Monday, but seriously who cares about that when you could be finding out about some awesome new MSPA merchandise!
Hey! You! Did you hear that there's awesome new MSPA merchandise?
you said that already.
Oh no.
No, this is not happening right now.
but nothing IS happening! i just--
Posted on 14 February 2016 by Andrew
Awwwwwwwwww. (Everyone: Awwwwwwwwwwww.) That was adorable!
Make sure and check the
credits page
to meet all the contributors who just injected a live kitten directly into your heart. (Awwwwwwww!)
a live kitten? what?
The doctor holds out an x-ray. You slowly lean forward, squinting. You can SORT of make out the image of a grotesque, fanged skeleton monstrosity gnawing playfully on the inside of your ribcage. (Awwwwwwww!)
I have excellent news, the doctor intones gravely. That rattling noise inside your chest was not a heart murmur. It was a heart purr-purr.
what are you even talking about.
...That's weird. How did I type the last bit in blue?
oh, you didn't! i was the one who said that.
What the fuck.
i guess i should introduce myself?

hello, my name is john! are you andrew?
Oooooooooooooooooooooooookay! I think that is ENOUGH Homestuck for tonight.
Everyone purchase some valentine's day shit or whatever.
BYE!!!!!!!!